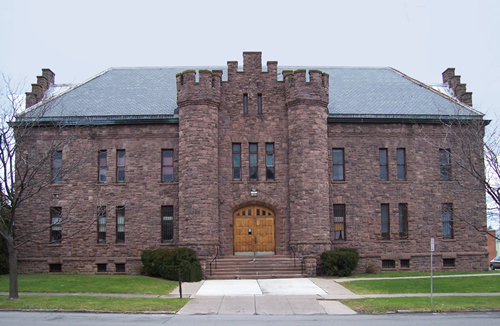 Medina Armory Architecture: The historic architectural structure, Medina Armory, situated on the corner of Pearl and Prospect Streets in the village of Medina, NY was constructed between 1901-03 at the cost of <$60,000. It is believed to be the first armory designed by George L. Heins, a NY State architect from 1899-1907. Heins continued to design armories in the castellated/Richardson Romanesque style that was made popular by the preceding architect, Isaac G. Perry. It is constructed of matched brown Medina Sandstone, with towers and battlements fronting on Pearl Street and its massive roof stretches northward covering a very large hall. The Medina Armory is an almost exact (but smaller) mimic of the celebrated Connecticut Street Armory in Buffalo.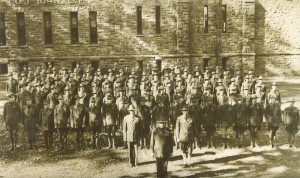 Military Service: For over 75 years, the Armory housed units of militia, National Guard and federal troops, and some of these valiant warriors were called to duty to fight several major wars of the 20th Century. During its time as a military training center, the Armory generated a love affair with the village and the building often became a social center, featuring large dances, balls and celebrations. There was a great community honor attached to being an officer or enlistee in one of the uniformed companies and there were colorful occasions when Canadian militiamen in their kilts visited Medina and held special drills on the huge Armory lawn. It was a memorable era in local history and some local families still prize the memories of fathers, sons or daughters who wore the uniforms of the Guard or of Company F, 108th Infantry, or Company C, an armored infantry unit.
Medina Sandstone Society: In the 1980s, the Medina Armory, with the efforts of the dedicated Armory Action Committee, was converted to a recreational facility. The Orleans County YMCA has been very active at the Medina Armory ever since. The Committee alumni banded together in 2004 to form the Medina Sandstone Society, dedicating themselves to the historic preservation of Medina, NY and especially the Medina Armory.
Historical Acknowledgement: In 1995, the Medina Armory was named to the United States Department of the National Park Service and listed on the National Register of Historic Places. The Medina Sandstone Society has embarked on a $25,000 renovation program to address some exterior flaws in the Armory as well as raising funds to continue proper maintenance on the structure.
Company F Memorial: In 2007, a committee was formed to create a memorial to honor troops who served in Company F from 1898 (Spanish American War) to 1947 (World War II.) This committee is a combination of the Orleans County Joint Veterans Council and the Medina Sandstone Society.
We are continually researching and collecting the following:
Historical artifacts regarding infantry personnel from1898 to 1977
Rosters & historical data from Company F, 108th Infantry

Spanish-American War Roster: 1898
Mexican Border Incursion: 1916
World War I: 1917-1918
World War II: 1940-1945

Company C 174th Armored Infantry Battalion data, 1947-1977